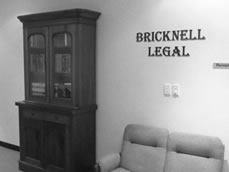 What you can expect from Bricknell Legal?
Bricknell Legal sincerely appreciates the confidence clients place in us when they rely on us to advise and represent them.
---
As a client of Bricknell Legal …
Your interests will always be paramount in advice and counsel we offer.
You will be treated as a valued client – we will never take you for granted.
You will receive legally correct, up-to-date, sound, and timely advice and information.
Your matter will be handled by a highly qualified professional whose ethics and personal integrity will always be beyond reproach.
You will be consulted on all issues which require your input.
We promise the best possible value for your money.
We will protect and advance your position by bringing together all our expertise, skills, and understanding for your benefit.
We appreciate the confidentiality of the information you give us  –  it will never be improperly used or disclosed.
We will work hard to build a sound long-term relationship with you as a  valued client.
We will hold ourselves accountable to you for performance.
We believe that our expertise and service are exceptional, but what matters most is the value we deliver to you and we will always listen to suggestions as to how we can do better for you.
When you offer feedback, we will carefully consider it and respond accordingly.  If you raise queries or concerns, we will address and resolve these promptly.
In turn, we ask of you, as our client …
Be frank and open with us.  Tell us about your objectives and concerns so we determine how best to help you.
To represent you well, we will need your  timely cooperation.Please give us clear information well in advance of deadlines.
Please pay our accounts in accordance with agreed terms, and notify us of any queries before  payment due date.
Promptly inform us of any changes to your contact details.
Please give us clear feedback  –  it will help us to do better.
Share with us other ways we can help.